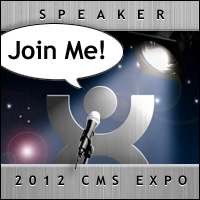 Metrist Partners' Avery Cohen will be speaking at this year's CMS Expo, May 8 – 10, 2012.
The CMS Expo is an awesome place to learn about Content Management Systems as well as to use content to engage with your community and achieve your business goals. The conference is a perfect meeting for technology and marketing. If you want to learn more about how to choose a CMS, how to use your CMS, or what to use your CMS for, this conference is for you.
Avery will present two sessions:
SEO is changing, and so should your tactics for getting found on the Internet. "Avery on SEO" will discuss changes in SEO best practices, and how to implement those changes on your website.
Professional web marketer Avery Cohen, will show the CMS modules you need to optimize your site, how to manage your site content and develop a linking strategy to achieve top listings on search engines and produce better business results.
Google Analytics can make a great web site even better! Learn how to set goals and measure the effects of SEO success. Professional web marketer Avery Cohen, will share tips and tricks of how to best use Google Analytics to help you in your web-based-marketing efforts. This session will recap the basics of Search Engine Optimization, then take a step forward into measuring the effectiveness of your campaigns with Google Analytics. This is a must-attend session for web marketers!
Check out the CMS Expo, in Evanston, Illinois (just north of Chicago), and use the discount code "Avery2012" for a 10% discount!